Stiniva Beach
The island Vis is getting more and more attention every year, and it became a very popular tourist destination. Vis has a unique location, and it served as a military zone for many years. The island started to be attractive to so many tourists for its history, cultural heritage and natural beauties.
As sailing means so much more to us - we have an incredible place which we would like to share with you. The beach is only accessible with a boat, which makes it even more special - and you have the boat to make it possible.
STINIVA BEACH - the perfect place, and best beach in Europe in 2016!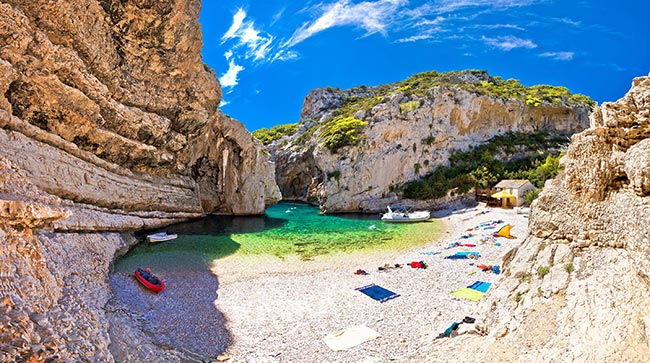 What's so amazing is that this beach is surrounded by very high cliffs, and one part of the beach is always hidden from the sun. It is a beautiful beach on the southern part of the island.
The beautiful beach is 35 meters long, and you can reach it only in two ways - with the boat or by foot. After you reach the beach - you only have to breath in the amazing view.
The landscape and the turquoise sea in this bay will leave you amazed, and the experience will be even more amazing if you reach the beach with your boat.
As you are already there, don't miss to visit the BLUE AND GREEN CAVE, you can find more details HERE .