Krka
Krka National Park is situated near Šibenik and covers the area of over 142 km2 of preserved nature, including two thirds of the river Krka itself. The main attractions of this National Park are marvelous waterfalls Skradinski Buk, Roski waterfall and small picturesque Franciscan island of Visovac. The best way to observe all the natural beauties that Krka National Park offers to visitors is taking a boat trip through the Park, which is included in the entrance ticket. The boat excursions are a great way to experience all wonders of the National Park because you have the chance to step off and wander on paths along the water, and they often include interesting presentations and talks.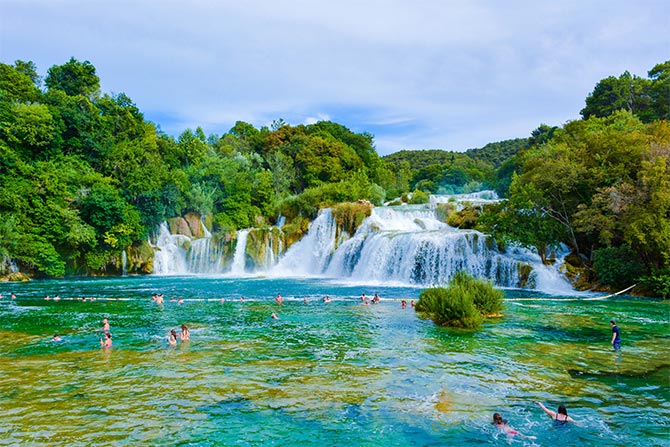 Krka National Park conserves diversity of many flora and fauna species, including over 800 miscellaneous plant species, over 200 bird species, 18 different species of bats, and many amphibians and reptiles that live in the clear waters of the river Krka.
Tourists also love to take a refreshing swim on the beaches in some of the locations in the Krka National Park, under waterfalls, which gives them a unique experience.
There are few entrances to the Krka National Park. The main entrance is from the little town Skradin, where you can find one of the most beautiful marinas in Croatia.