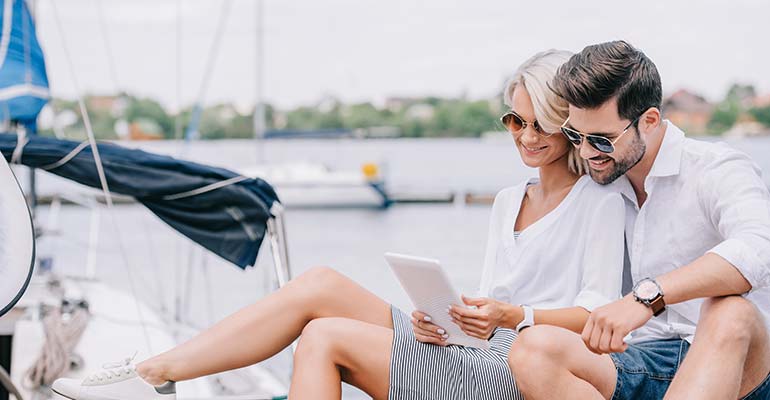 Privacy Policy
PERSONAL DATA PROTECTION STATEMENT
This Personal Data Protection Statement by Adria Yachting d.o.o. shall apply from 25 May 2018, and it is based on the General Data Protection Regulation.
Adria Yachting d.o.o. shall process your personal data in accordance with Regulation (EU) 2016/679 on the protection of natural persons with regard to the processing of personal data and on the free movement of such data and national laws based on the said Regulation, with the application of appropriate technical and security measures for the protection of personal data against unauthorized access, misuse, detection, loss or destruction.
1 GENERAL INFORMATION
This Statement describes what data we collect, how we process them, and for which purpose we use them, as well as your rights associated with your data.
In charge of data processing:
Adria Yachting d.o.o.,
Lošinjskih brodograditelja 47, 51550 Mali Losinj,
VAT ID: 72523796915
If we use the services of external providers to process your personal data, this is processing (of personal data) by order, in which case we are also in charge of protecting your personal data.
2 TYPES OF PERSONAL DATA WE PROCESS
We use the following data:
Master data: Forename and surname, date of birth, country of birth, nationality, personal identification number, Tax number, Address and contact information data: city, e-mail address, mobile phone number
Other data: type of identity document, number of identity document, date of boarding, port of boarding, name of yacht or boat, number of skipper licence, number of VHF licence, credit card number, booking number, GPS coordinates of navigation, video surveillance record from facilities, your IP address during visiting to our website, any additional information you provide ( e.g. any health issue or similar
3 LEGAL BASIS AND PURPOSE OF PERSONAL DATA PROCESSING
All types of your personal data are processed based on:
Legal obligations: we process your personal data in accordance with the regulations in force, as well as for the purpose of notification and registration which we are obliged to preform in accordance with the regulation in force (e.g. the Regulation on conditions for providing services of chartering with or without crew and the provision of guest accommodation services on vessels, concluding an agreement on the provision of chartering of vessels).
Fulfilment of agreement: we process your personal data for the purpose of fulfilling the agreements and contractual obligations we have concluded.
Consent: you have given us to process your personal data of purpose of sending promotional offers and other business-related information, for the purpose of assessing satisfaction after the charter period, and for the purpose of contacting you.
Legitimate Interest of the Controller: All your data is processed for the purpose of meeting the obligations of the legislative body (e.g. the Regulation on conditions for providing services of chartering with or without crew and accommodating guests on the vessels) or fulfilling contractual obligations and concluding agreements (e.g Yacht Charter Agreement).
We collect personal data from our customers in person, at fairs, via website, e-mails and by phone or we receive them other charter agencies.
4 RETENTION PERIOD
We shall delete your personal data upon termination of the contractual relationship and no later than the expiration of any legal requirements relates to the retention of personal data.
5 CONSENT MANAGEMENT
You can revoke your consent at any time. You can also , at any time, object to our processing of your personal data.
You can change your consent via a written request at the following address:
Adria Yachting d.o.o.,
Branch office - Uvala Baluni 8, 21 000 Split
or by e-mail
[email protected]
If you revoke the given consent, we will no longer use your data for the said purpose. If you wish to give your consent again, you are able to do so.
In the case of processing of your personal data that does not require your consent and that is necessary for the conclusion of an agreements with us or the fulfilment of the concluded agreement, or due to obligations we have under the law, if you do not provide us with these data, we will not be able to fulfil our contractual obligations towards you, nor will we be able to conclude an agreement with you.
6 RIGHTS OF DATA SUBJECTS
Right of access to data and information on processing personal data, i.e. does the controller process personal data of data subjects or not and if the data is processed, what is the purpose of this processing, categories of personal data in question etc.
Right to rectification- if we process your personal data that are incomplete on inaccurate, you may ask us to correct complete them at any time
Right to erasure- you may ask us to delete your personal data if we have processed them illegally or if the processing represents disproportionate interference with your protected interests. Please note that for some reasons immediate deletion is not possible. For example, due to the archiving obligations laid down by law
Right to data portability- you may ask us to provide you the data you have entrusted to us a structured form, in a standard machine- readable format. If we process these data on the basis of consent you have given us and which you may revoke or for the fulfilment of our agreements and if the processing is done using automated processes
Right to object- if we distribute your information for the purpose of preforming a public interested task or a task of public bodies, or when upon the processing of your information we invoke our legitimate interests, you may file an objection against such data processing if there is an interest in protecting your data
Right to object to competent authority- if you believe that upon processing your data, we have violated Croatian or European data protection regulations, please contact us to resolve any issues. You are certainly entitled to file a complaint with the Croatian Data Protection Agency, or in the event of a change of the applicable regulations, with another body that will assume its jurisdiction, and starting from 25 May 2018 with the supervisory body within the EU.
Exercise of rights- if you wish to exercise any of the aforementioned right, contact us using our contact information referred to in Article 1 of this Statement
Identity confirmation- in case of doubt we can request additional information to verify your identity. This serves to protect your rights and private spheres
Misuse of right- if you execute any of these rights too often and with obvious intent of misuse, we may charge you an administrative fee or decline to process your request
Right of limitation of processing- you may request a limitation on processing your data If you dispute the accuracy of your data during a period that allows us to verify these data. If the processing of your data was unlawful, but you refuse the deletion and instead ask for a limitation of use of this data.
If we no longer need the data for the foreseen purpose, but you still need them for the realization of legal requirements or if an objection has been filed for processing these data.
7 TRANSFER OF DATA TO THIRD PARTIES
We shall keep your personal data and shall not disclose them or make them available to third parties except in the following cases:
if you explicitly and in writing agree to disclose certain confidential data for a particular purpose or to a particular person
If the Ministry of the Interior or the competent State Attorney requires the data for the purpose of carrying out the tasks within their competence
If a court, attorneys or a notary public require the data for their proceedings, where the submission of such a data is required in writing
If the Tax Administration, the Croatian Pension Insurance Institute, and Croatian Health Insurance Fund require the data on the basis of legal obligations that the controller has towards them
If we are obligated to submit data to the Ministry of Maritime Affairs, Transport and Infrastructure
8 TRANSFER OF DATA TO THIRD COUNTRIES
Transfer of data to third countries (countries outside the EU) is performed only:
if there is a statutory obligation
if there is a necessary for the fulfilment of contractual obligations
if you have given your explicit consent
9 USE OF DIGITAL SERVICES (WEBSITE, APPLICATIONS)
We collect only those personal data that visitors of our official website voluntarily make available to us when submitting contact information, applying for jobs, using call back services, and filling complaint forms. These personal data are used confidentially and only for specific purpose. The transfer of these personal data to third parties is not carried out, unless there is a statutory obligation or an order of the official body when such personal data may be forwarded to the competent authority. Access to the website is protocoled and technical data such as website traffic, the operating system used, display resolution, time of visit, and the size of the transferred data are recorded on that occasion.
To improve our offer the website, contain "cookies" that are stored on computers of the website visitors. The "cookie" storage can be prevented, but this can limit offerings of the website. "Cookies" provide the ability to store typical preferences of website visitors, optimize technical processes, and continually improve offering.
We have taken all technical and organizational measures to protect your data against loss, alteration, or access by third parties. In case you have any questions, please feel free to contact us and we will respond as soon as possible to your requests and queries and help you in exercising your rights.
Any changes to our policy on the protection of personal data shall be disclose in our Personal Data Protection Statement and on our website, and you will be adequately informed about them.
10 SECURITY STATEMENT
We have taken all reasonable steps to have in place appropriate security measures to protect your information.
11 CHANGES TO THIS POLICY
Any changes to this policy will be either posted on our website, brochure and / or made available upon request.