Kornati
The impressive Kornati archipelago, the pearls of the Mediterranean, a labyrinth of stone, are the most indent island group in the Mediterranean Sea, collecting eighty -nine islands, islets and rocks in the sea.
Kornati islands are protected and preserved as the Kornati National Park. There are no inhabitants, people would only occasionally come to the islands. There are approximately 300 houses on the islands and numerous micro localities. Island is jeweled with many dry walls that frequently extend from coast to coast, as monuments to human hard work, patience and impeccable skill. There are approximately 260 kilometers of dry-stone walls on the biggest island of the archipelago, the Island of Kornat, alone, and in the entire territory of the National Park Kornati, their total length comes up to impressive 330 kilometers. The terrestrial part of the National Park is complexion of karst and limestone terrain. Along the cliffs plunging into the crystal-clear sea, visitors can discover an abundance of corals. This area is more than attractive to divers and lovers of maritime nature and wildlife, since extraordinarily clean and translucent sea hides astonishing and colorful biodiversity, a specific habitat for fish and various specious of corals, due to the light penetrating deep in the sea.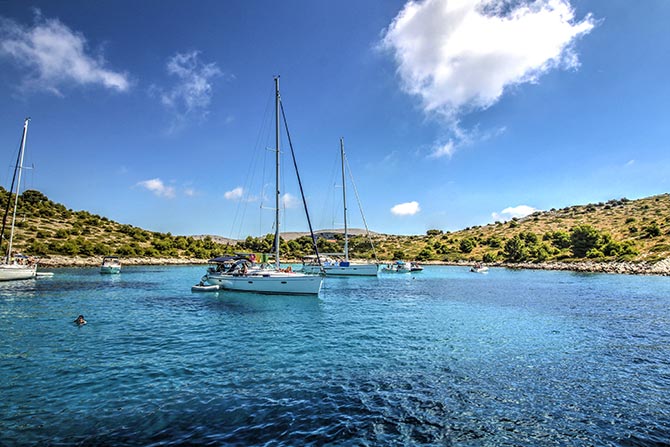 Above the clear blue sea, there is barely nothing but the barren rock, which provoked many visitors to describe the area as a lunar landscape, although the islands are a home to over 650 plant species, rare birds and the only carnivore of the islands, beech marten. The National Park Kornati consists of two groups of islands, the Kornat and the Piškera island chains. Between the islets of Piškera and Panitula Vela, there is a little, peaceful and protected marina. Kornati islands are a safe and loved shelter for sailors, well-known among the yachtsmen whenever there are strong winds and raging waves. The sea around the islands is regularly filled with sails, since visitors find the breathtaking sights of Kornati islands very attractive. The view of the islands from above is as astonishing as sightseeing spots on the islands.
The Kornati islands are well-known destination and always receive very much love from their visitors, conjoining harshness of the barren Dalmatian rock, the unique natural beauty, the monuments of hard work and play of the wind and sea.