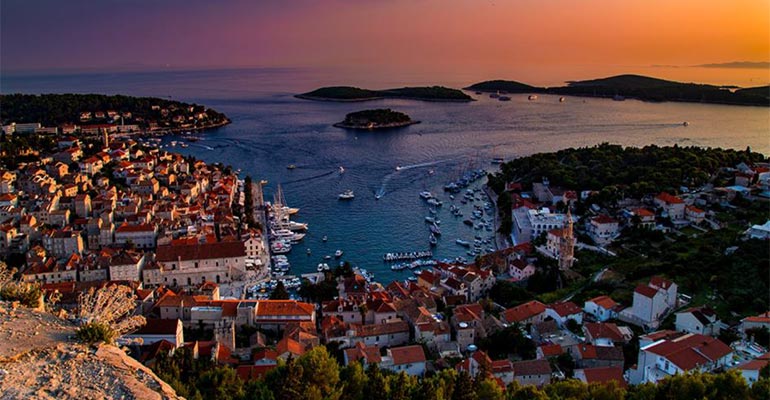 Suggested 7 days sailing route South 2
It is always easier if you plan your route in advance, and organize your week. In high season you can maybe have problems with booking berths in marinas, so better to be prepared.
You need to help to plan your sailing vacation? We are here it make it more comfortable.
The routes are just a guide to make the charter week more comfortable and to give you some ideas and suggestion where to go and make the best possible out of your holiday.
South route 1 - Split to Split
DAY 1: SPLIT, ACI MARINA - VIS 30 NM

Vis is the furthest island from the coast of all Croatian inhabited islands. Vis is preserved and poorly populated, which is this islands advantage, offering beautiful scenic views untouched nature and open sea that were used as set for filming Mamma Mia! Here we go again in 2018. This conserved island has it's own distinct grape, vugava, that has been cultivated here since ancient times.
DAY 2: VIS - VELA LUKA (KORCULA) 25 NM

Vela Luka is an old town situated on the island of Korčula. It is a home to many talented artists like sculptures, painters and musicians such as late Oliver Dragojević. Vela Luka is situated in deep and protected bay, which makes it one of the best anchoring places for sailors. This scenic small Dalmatian town is decorated with networks of drywall, little intimate bays and beaches, and makes the perfect relaxation place for everyone.
DAY 3: VELA LUKA - ZAKLOPATICA ( LASTOVO) 18 NM

Located 2 kilometers from Lastovo village of the Island of Lastovo, Zaklopatica is an islet that offers a breathtaking view of Island of Korčula. It is favourite among divers and sailors, due to the Lastovo archipelago and wonderful bays that surround the island. Zaklopatica is home to a rare specie of birds called Kaukala. This picturesque destination offers it's visitors an astonishing sunset at the end of a hot summer day in Dalmatia.
DAY 4: ZAKLOPATICA - KORCULA 21 NM

The town of Korčula, the hometown of Marco Polo, is the cultural center of the Island of Korčula. The town is one of the best preserved medieval urban architecture towns in Croatia. Narrow streets in the center of the town were built in the form of a fishbone, which gives it a unique design. Due to the dense oak and pine forests, the contours of the island look almost black. Korčula is a perfect place for visiting during whole year, especially during summer when you can often see dolphins playing in clean, blue waters.
DAY 5: KORCULA - PALMIZANA (HVAR) 34 NM

Palmižana is the most famous beach of Pakleni islands and is situated on the St. Klement islet. It is also the most famous and most visited beach and excursion resort with a nautic marina of Hvar, characterized by pine tree forests, scents of rosemary and other exotic plants.
DAY 6: PALMIZANA (HVAR) - MILNA (BRAC) 13 NM

Milna, "the bay of a thousand ships", located on the north-west side of the Brač island, has been a favourite port for sailors sailing through Middle Adriatic sea. It is known as the safest and the most beautiful harbour of Brač. Milna is characterized by the scenic beauty of old stone houses that give typical Dalmatian charm to this small town with long coastline and beautiful beaches.
DAY 7: MASLINICA (SOLTA) - SPLIT, ACI MARINA 13 NM

Split is the perfect place for you to experience how life in Dalmatia truly is and is just the right balance between tradition and modernity. Split is the home to Diocletian's Palace (a UNESCO World Heritage Site and one of the world's most impressive Roman monuments) but also has been the host city of Ultra Europe music festival, the biggest electronic music festival in Europe.
DAY 8: SATURDAY - CHECK OUT

After a great a week of hopping on the islands in Dalmatia, we are happy to welcome you back where the story started. Our staff is waiting for your to do the check-out procedure, and to finish all the paperwork in the office.