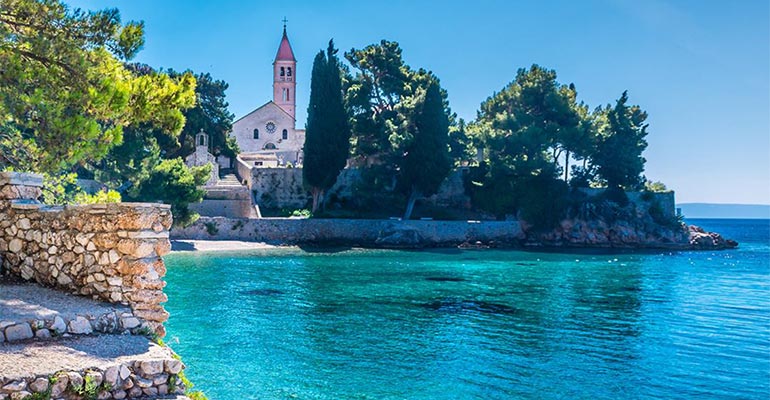 Suggested 14 days sailing route Split - Dubrovnik - Split
It is always easier if you plan your route in advance, and organize your week. In high season you can maybe have problems with booking berths in marinas, so better to be prepared.
Split is a great sailing start base - it also an amazing city to visit and the largest in Dalmatia. You can visit the old town and take a walk on the on the worlds famous promenade.
South route 1 - Split to Split
DAY 1: SPLIT, ACI MARINA- CHECK IN

Our start point is our base in ACI marina- the perfect embarkation spot! From Split you have so many different destinations you are able to see, and visit. All the islands are very close to each other which gives you the opportunity to visit more islands in one week.
The check in can start- paperwork is done, and the technical check-in is finished.
You can set the sails, and remember: You can not control the winds, but you can direct the sails!
DAY 2: SPLIT, ACI MARINA – VIS 30 NM

Vis is the furthest island from the coast of all Croatian inhabited islands. Vis is preserved and poorly populated, which is this islands advantage, offering beautiful scenic views untouched nature and open sea that were used as set for filming Mamma Mia! Here we go again in 2018. This conserved island has it's own distinct grape, vugava, that has been cultivated here since ancient times.
DAY 3: VIS – VELA LUKA 25 NM

Vela Luka is an old town situated on the island of Korčula. It is a home to many talented artists like sculptures, painters and musicians such as late Oliver Dragojević. Vela Luka is situated in deep and protected bay, which makes it one of the best anchoring places for sailors. This scenic small Dalmatian town is decorated with networks of drywall, little intimate bays and beaches, and makes the perfect relaxation place for everyone.
DAY 4: VELA LUKA – ZAKLOPATICA (LASTOVO) 18 NM

Located 2 kilometers from Lastovo village of the Island of Lastovo, Zaklopatica is an islet that offers a breathtaking view of Island of Korčula. It is favourite among divers and sailors, due to the Lastovo archipelago and wonderful bays that surround the island. Zaklopatica is home to a rare specie of birds called Kaukala. This picturesque destination offers it's visitors an astonishing sunset at the end of a hot summer day in Dalmatia.
DAY 5: ZAKLOPATICA – KORCULA 21 NM

The town of Korčula, the hometown of Marco Polo, is the cultural center of the Island of Korčula. The town is one of the best preserved medieval urban architecture towns in Croatia. Narrow streets in the center of the town were built in the form of a fishbone, which gives it a unique design. Due to the dense oak and pine forests, the contours of the island look almost black. Korčula is a perfect place for visiting during whole year, especially during summer when you can often see dolphins playing in clean, blue waters.
DAY 6: KORCULA – POLACE (MLJET) 13 NM

Polače is a small village on the Island of Mljet that is also the safest and the largest bay on the whole island, since it is secluded and protected by other small islands. There are few local restaurants, bars and shops on the island. This charming island's distinguishing characteristics are the ruins of one of the largest buildings in Dalmatia from the Roman period, the Roman palace called Polace.
DAY 7: POLACE (MLJET) - KOBAS (PELJESAC) 21 NM

Kobaš is a picturesque bay on the peninsula of Pelješac. With it's scenic beach and calm bay, it is being more and more popular among sailors. Enjoying peace and quite of this small village, in Kobaš visitors can find a local restaurant that is situated on the beach.
DAY 8: KOBAS – SIPAN 7 NM

The Island of Šipan, known as the island of seamen and Dubrovnik nobelty, is the largest and the most populated of the Elafit islands. Šipan is surrounded by many little islets, and contains of lots of secluded bays. This peaceful island attracts visitors with it's Mediterranean vegetation, plenty of fish and crystal clear sea. There are many little dedicated chaples and churches to be found here, which gives this island a special dose of charm.
DAY 9: SIPAN – DUBROVNIK 16 NM

Dubrovnik is one of the most known towns in Croatia. It's old town's preserved cultural and historical heritage is inscribed in the UNESCO's List of World Heritage Sites. The old town's squares and streets are stone paved, while the streets architecture is proudly showing elegant baroque terraced houses, monasteries, churches, palaces, galleries and museums. It is home to Croatia's artistic and intellectual elite and offers numerous cultural activities and festivals. Dubrovnik is worldwide known for being filming location of Game of thrones and many other famous movies and series. It is known as the most picturesque city due to the marvelous city walls, and is often named as the "Pearl of the Adriatic".
DAY 10: DUBROVNIK - SOBRA (MLJET) 23 NM

Sobra is a small village on the island of Mljet that is a main entering port on the island, where ferries from Dubrovnik and Prapratno arrive daily. It features few local restaurants and shops, and is well connected to the other places on the island. Sobra is a fishing village, and there are few rocky places to swim and enjoy scenic views of azure Adriatic sea.
DAY 11: SOBRA – LUMBARDA (KORCULA) 22 NM

Lumbarda is a small attractive tourist destiantion on the Island of Korčula jewelled with sandy beaches and breathtaking views of archipelago near Lumbarda. Lumbarda provides visitors selection of numerous activities like swimming, diving, sailing, beach volleyball and many others. Offering diversity of activities for both relaxing and sports, Lumbarda is a perfect spot for enjoying Dalmatian summer.
DAY 12: LUMBARDA – HVAR 36 NM

Hvar Hvar, located on the island of Hvar, is the sunniest spot ih Croatia and the most luxurious beach destination. In this charming Dalmatian town you can find elegant and elite restaurants and hotels and fabulous beach bars for day and night partying. On Hvar you can find most beautiful and isolated coves, beaches and natures best views. Hvar has some of the best beaches of the Adriatic sea, such as Palmižana beach and breathtaking complex of islands that are called Pakleni islands.
DAY 13: HVAR – STARI GRAD 14 NM

Stari Grad of the Island of Hvar, in latin called Pharos, is the oldest town in Croatia, therefore it got it's name which means "the old town". It is the historical heart of the Island of Hvar, and due to it's location for centuries it has been known as a safe harbour that welcomes sailors and visitors with it's wide promenade, narrow pebbled streets, small squares and sites of green pine tree forests, vineyards and olive fields surrounding the town. Visitors and locals enjoy the hard to find fresh air which assures refreshing sleep during hot summer days.
DAY 14: STARI GRAD – MILNA (LUCICE) 14 NM

Milna, "the bay of a thousand ships", located on the north-west side of the Brač island, has been a favourite port for sailors sailing through Middle Adriatic sea. It is known as the safest and the most beautiful harbour of Brač. Milna is characterized by the scenic beauty of old stone houses that give typical Dalmatian charm to this small town with long coastline and beautiful beaches.
DAY 15: MILNA - SPLIT, ACI MARINA 13 NM

After a great a week of hopping on the islands in Dalmatia, we are happy to welcome you back where the story started. Our staff is waiting for your to do the check-out procedure, and to finish all the paperwork in the office.
Good times come and go, but the memories will last forever!