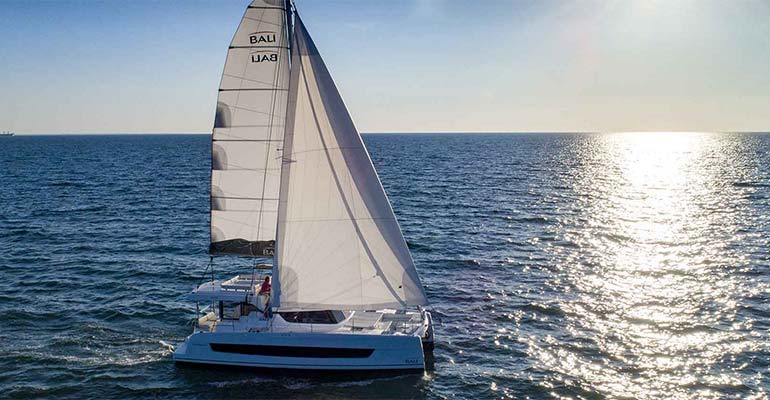 Bali Catspace
The most successful catamaran in her class
The new catamaran Bali Catspace combines all the latest innovations in cruising. The integral deck, efficient for sailing, allows you to move smooth around the various spaces, from the aft platform with bench seat to the forward cockpit with lounge and sunbathing area. The full- comfort flybridge is home to an immense and safe relaxation area as well as the helm station designed for single- handed or short- handed use. not to mention the performance and quality that make the Catana group's range so successful.
CATSPACE, MAKIG WAY FOR SPACE
Rarely has a catamaran off this size offered such a habitable volume. The large tilt-and-turn door opens onto a truly impressive cockpit/ saloon/ galley area.
In addition to communicating with the forward cockpit, the large galley window and the sliding windows in the saloon offer an exceptional panoramic view and natural ventilation.
The well - equipped L- shaped galley has 265 - liter refrigerator / freezer, and the forward- facing chart table is a proper navigation station.
Volume and voluptuousness
Available in 3- or 4- cabin versions, the layout of the Catspace's hull has been designed for the comfort and privacy of the entire crew. Each cabin, with warm decor has a large double berth, accessible from both sides and its own bathroom with toilet. The forward cabins can be fitted with an additional folding bank. The owner benefits, in his own personal space, from a sofa and a desk/ dressing table, a real dressing room and a large adjoining bathroom.